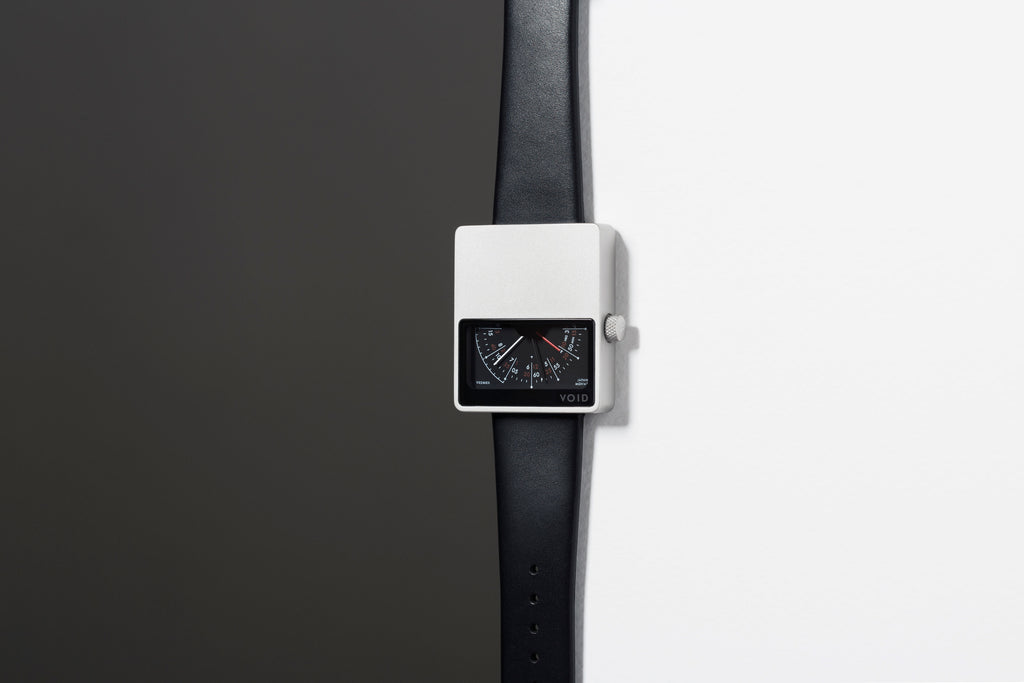 The V01MKII-SI/BL
The Clever, Not Smart V02MKII
The V02MKII is an unusual watch. Unlike the latest "smartwatches" that have transformed wrists into cell phones, with the exception of the V02, we have strived to keep our watches both simple in design and function. The clever design makes for a unique way of telling time.

Like any other watch, the dial of the V02 model uses three 'compass needle' hands: the short hand representing the hours, the long hands representing the minutes and a seconds needle. But what makes the V02MKII so 'smart' is that the circular plane which regular analogue watches use to tell time is cut in half by compacting the first and the second half of hours, minutes and seconds into a semicircle. A defining detail of the design is that all hands are painted either with a red or a white tip.
To tell the time, simply match the colour of the tip with the digit of the same colour. For example, the image above shows the red hour hand pointing just after the red digit '10' and the minute hand just at the white digit '11'. The exact time reads 10:11.
Our V02MKII is the analogue version of our digital, square cased V01. With its first iteration launched in 2009, our second version (hence the name, "MKII") adopts a slimmer 36x42x8mm stainless steel case, finer graphics and a second needle. The dial is protected by scratch resistant sapphire crystal, the case, houses a Japanese quartz movement.  The watch itself is waterproof down to 50m, that is, it's completely safe for a swim or a shower when worn with our metal bracelets. This modern classic is offered with a sandblasted finish in our standard colours of silver, black, and gold.
It should be noted that this watch generally provokes passers-by to question how the watch actually works, so be prepared to answer a lot of questions!