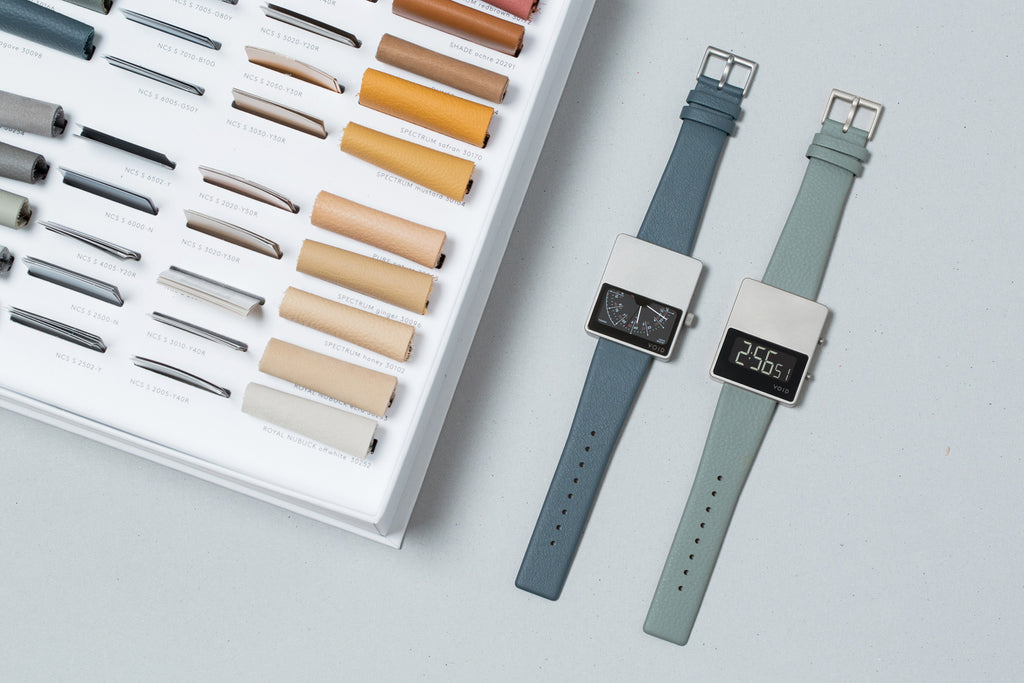 The leathers are chosen from Sørensen's SPECTRUM collection. 
VOID Watches & Sørensen Leather
In Scandinavia most interior and furniture designers are familiar with Danish leather experts Sørensen, the family owned company that supplies leather to many Scandinavian design classics still in production. Over the last 40+ years they've built up an invaluable experience of leather as well as a very inspiring collection and we've recently had the opportunity to work with them on a small capsule collection for VOID Watches.
What especially caught our eye was the SPECTRUM collection curated by our fellow Swedes at Note Design Studio (they always do beautiful work). This collection has a beautiful palate of natural tones and to add a further dimension, Sørensen has also commissioned Note to create a set of 20 leathers with corresponding color chips from NCS. It was from this elegant set we made our selection.
The challenge was then to narrow down our choices to only two colors and after much deliberation we settled for a deep matte blue (SPECTRUM Royal) and a neutral creamy mint tone (SPECTRUM Agave). These two tones contrast very well with both gold and silver so we decided to pair them with a few of our square watches.
The collection will be shown for the very first time at SCP in London, 21-27 May, 2018.
Find out more about Sørensen at www.sorensenleather.com.